Ko-fi and Patreon are two examples of online platforms where creators can earn money sharing their work. Read our blog to determine which site is best suited for your content.
Which Membership Platform Is Better for You?
The market for content creation is expanding rapidly every day, which is why there are multiple platforms designed to help fans connect with their favorite creators. Artists, writers, podcasters, streamers, video creators, musicians, developers, and cosplayers can all use platforms like Ko-fi and Patreon to churn out content for a living.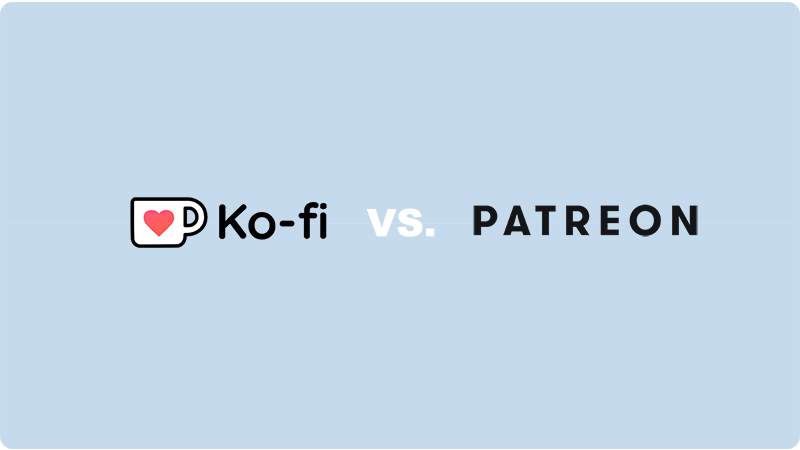 Ko-fi vs Patreon: What's the difference?
Ko-fi and Patreon are two examples of popular platforms that give creators a space to post their content and make money from it.
 
Patreon
Ko-fi
Monetization Features

Subscriptions: monthly/yearly

Subscriptions: monthly
One-Time: tips and paid for requests
Payouts
1st of every month
Instant
Size
2,000,000+ active patrons; 200,000+ active creators
500,000+ active creators
Company Founded
2013
2018
Highlighted Tools

iOS app
Creator dashboard (includes analytics)
Patreon Lens
Public and gated posts, community feed, and messaging
Poll creation
Reward fulfillment tracking
Merch Store
And more

Creator dashboard (includes analytics)
Public and gated posts, community feed, and direct messaging
Paid for Requests 
Set up a Shop to sell your Merchandize
Crowdfunding Goals
And more

Highlighted Integrations

Crowdcast
Google Analytics
Discord
WordPress
Discourse
And more

 

Google Analytics 
Discord
WordPress
Zapier
Stream Alerts
PayPal/Stripe
And more

Fees
Platform Fee: 5-12% plus payment processing (3-5%)
Platform Fee: 0-5% plus processing. 0% if paying for Gold for $6/month.
One-Time Payments: 0%
Best for…
Creators with a large audience
Casual Creators
What is Patreon? However, there are a few critical differences between Patreon vs Ko-fi from the perspective of the creator and consumer.
Patreon is a monthly membership service that allows creators to build a platform and share content online with their community. With over 200,000 creators and millions of fans, Patreon is one of the most well-known platforms for content creators trying to make a living from their craft.
What is Ko-fi?
Ko-fi is an online platform that offers the option for monthly subscriptions, as well as extra features like one-time donations and commissions/requests. Featuring 500,000 creators and millions of users, Ko-fi is a service that helps all kinds of artists benefit financially.
Who uses Ko-fi and Patreon?
Ko-fi is home to over 500,000 creators, from video creators and streamers to musicians and cosplayers. Ko-fi strictly prohibits adult content and harassment in any form. Still, as long as users are following community guidelines, they're free to post all mediums of art to their fans and communities, as indicated below.

Patreon is home to over 200,000 creators of all kinds, ranging from video creators and visual artists to journalists and nonprofit organizations. This platform strives to foster a diverse environment where all creators can feel safe to post, as long as their content is appropriate and respectful of other communities.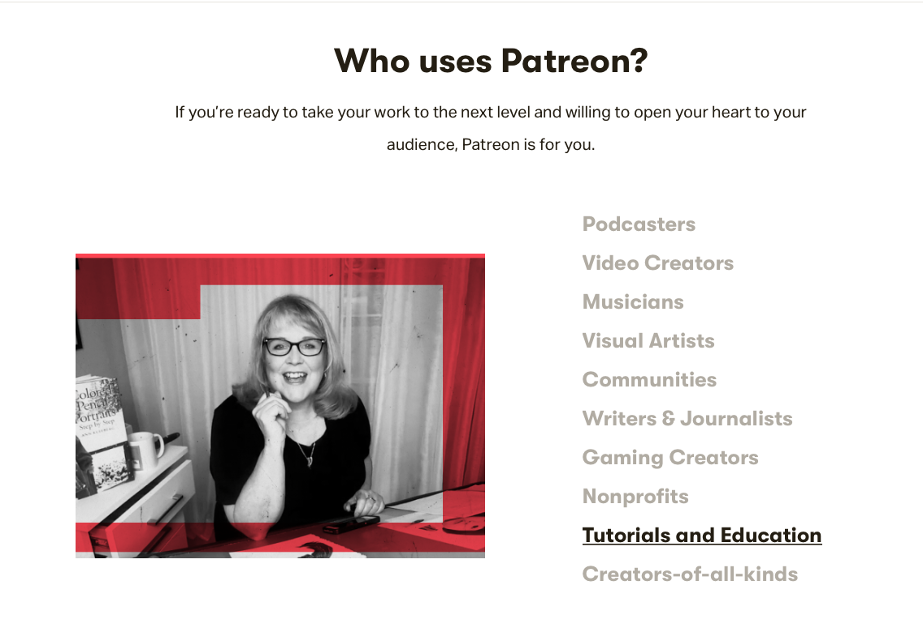 Patreon vs. Ko-fi: Fees and Payment for Creators
Services like Ko-fi and Patreon are designed to make money for the platform itself and the creators who utilize that space. However, there are a few differences between the Patreon and Ko-fi sites regarding how creators get paid, from what percentage they get to keep to how they can access their money. See the table below for details.
|   | Ko-fi | Patreon |
| --- | --- | --- |
| Donation Fee | Takes 0-5% of donations | Takes 5-12% of donations (depending on the plan) |
| Cashout Method | Direct instant payments | Monthly payments from subscriptions |
| Minimum Balance Requirement | None | $10-$25 (depending on region) |
One of the main appeals of Ko-fi is that they take 0% of the money raised from donations, which means 100% of donations go directly to creators. Ko-fi creators also receive direct instant payments with no minimum balance required.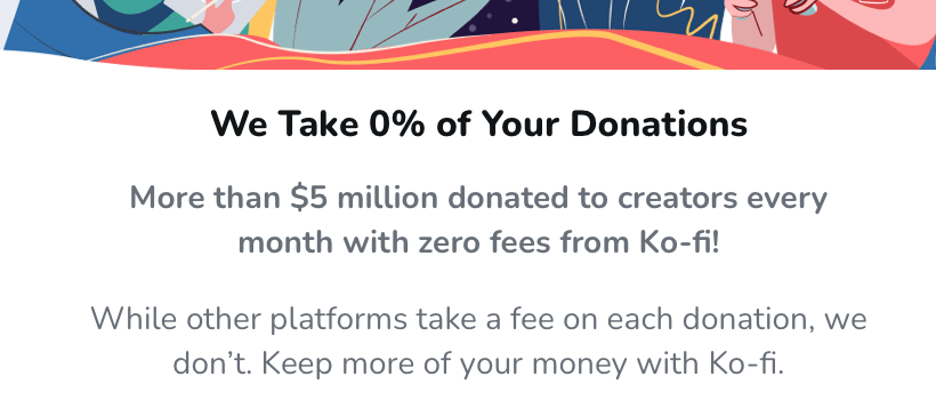 Patreon, on the other hand, takes 5-12% of donations depending on the content creator's chosen plan. Patreon offers creators three different plan options, each providing tools to help their platforms grow. Creators receive monthly payments of which a minimum balance of $10-$25 is required to gain access to their funds.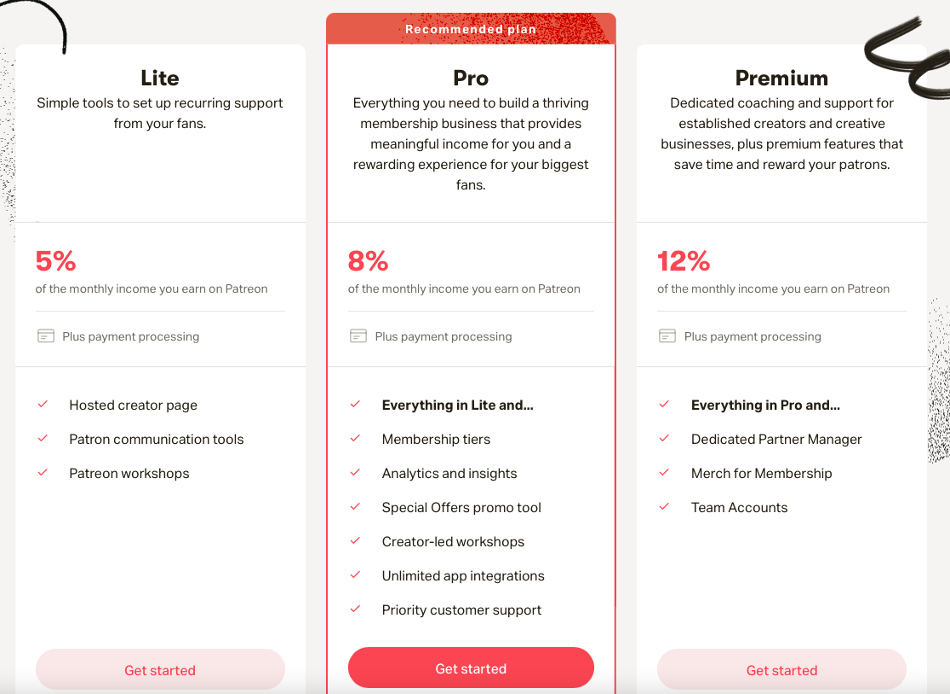 Patreon vs. Ko-fi: Subscription Models
The money-making models of Patreon vs Ko-fi set these services apart, as indicated by the table below.
|   | Ko-fi | Patreon |
| --- | --- | --- |
| Subscriptions | Membership option available, with tiers | Yes, a monthly subscription model with tiers |
| One-time Donations | Yes | No |
| Commissions/Requests | Yes | No |
| Sell Products | Yes | No |
| Crowdfunding | Yes | No |
Creators on Patreon make money via monthly subscriptions with different tier levels, meaning fans can pay more to have access to exclusive content. Monthly subscriptions are exclusively how Patreon creatives gain income.

Meanwhile, Ko-fi offers the option for membership plans along with a wide range of features that Patreon users don't have. For example, ko-fi allows users to receive donations via tip jar, sell digital or physical products, offer personalized services for commissions, and set crowdfunding goals to raise money.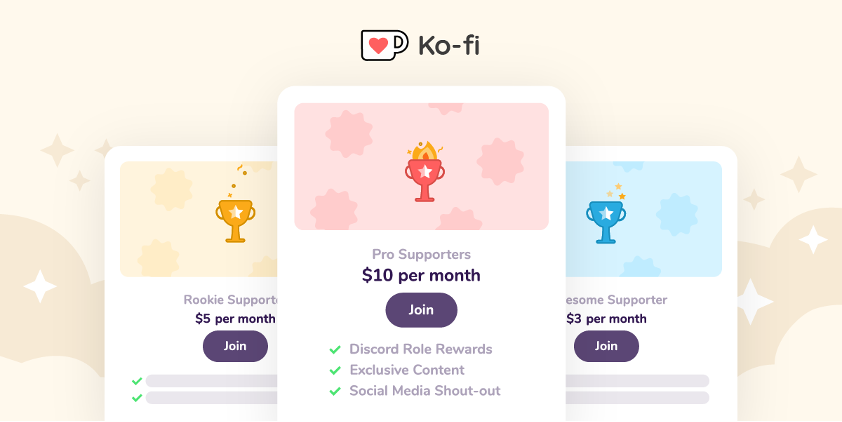 Patreon vs. Ko-fi: Content Production & Schedules
When choosing between Patreon and Ko-fi, it's essential to understand what goals and plans work best for each platform. See the table below.
|   | Ko-fi | Patreon |
| --- | --- | --- |
| Audience Type | Reach a more flexible audience | Reach a consistent, targeted audience |
| Commitment Level | No commitment is necessary. Publish content as often or as little as you like! | Publish content every month to maintain subscriptions |
Patreon is the superior option for someone who plans to make a serious living by posting consistently, as it's capable of reaching a constant, narrow audience with reliable monthly payments.
If content creation is more of a side gig or passion project, Ko-fi may be the better choice, as it's low commitment and allows for a more flexible posting schedule.
Patreon vs. Ko-fi: Platform Integration
Specific platforms can be integrated with Patreon or Ko-fi to support membership across websites, as shown below.
| Compatible with: | Ko-fi | Patreon |
| --- | --- | --- |
| Discord | Yes | Yes |
| Youtube | Yes (with an embedded link) | Yes (with a link) |
| WordPress | Yes (with an embedded link) | Yes |
| Zapier | Yes | Yes |
| Vimeo | Yes (with an embedded link) | Yes |
| MailChimp | Yes (with an embedded link) | Yes |
When it comes to platform connectivity, Patreon offers the most integration across websites, which means memberships can be utilized across multiple platforms. Patreon members can integrate with sites like Discord, Patreon, and Zapier

Ko-fi has fewer options for integrations, but can be used with Discord, WordPress, Youtube, and other sites with an embedded link or Ko-fi button.
How to use Ko-fi vs. How to use Patreon
To successfully start a Ko-fi, follow these steps for best results:
Set up a profile
Add a goal
Pin Ko-fi to socials
Write a thank you message to supporters
Set membership subscription tiers
Open a Ko-fi shop
Offer commissions
Connect Ko fi to other platforms
To start a profitable Patreon, follow these steps:
Create a Patreon account
Promote Patreon to an existing fan base
Start posting content regularly
Create subscription tiers
Send Patrons thank you messages
Connect Patreon to Discord
Ko-fi vs Patreon: Pros and Cons
 

Ko-fi

Patreon

Pros

Most cost-effective
Extra features to make money from
More flexible posting schedule

Better for serious creators
Reach a more targeted audience
Connectivity across websites

Cons

Less platform integration

Consistent posting schedule required
Who is Ko-fi better suited for?
Creators who prefer a loose schedule and tip-jar monetization style will thrive better on Ko-fi. If you have a side hustle or passion project, Kofi is the perfect platform for you.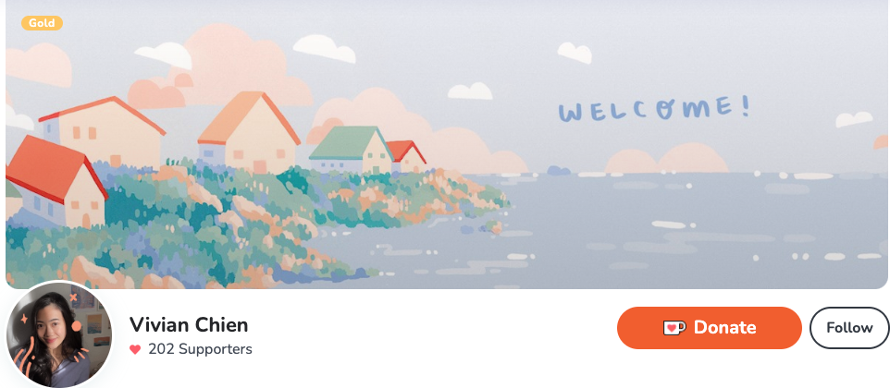 Vivian Chien is a visual artist and designer who uses Ko-fi to help support her business. Chien is a Ko-fi Gold member who sells digital wallpaper in her Ko-fi shop, offers locked content for paying supporters, and free content to encourage tips and donations. With 202 supporters and 70 coffees received, Vivian Chien has found success using this platform to share her art.
Who is Patreon better suited for?
Patreon is best for serious creators who post content regularly and already have a following on another platform where they can promote exclusive content.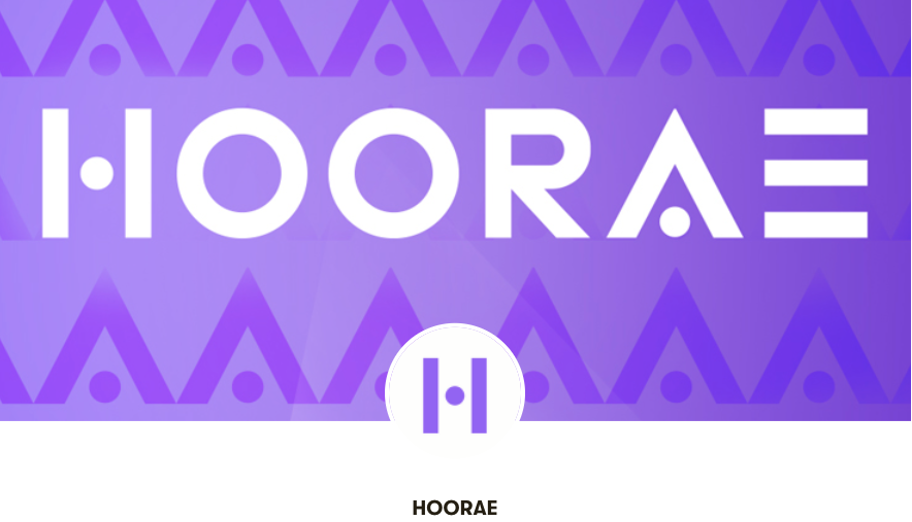 One successful creator on Patreon is HOORAE, a web series that gives writers, directors, and producers of color an opportunity to showcase their work. HOORAE offers supporters three membership tiers with rewards such as video updates, access to submit questions, and early access to tickets for live events.