Patreon and OnlyFans are two popular online membership platforms for content creators. See how much you can make and explore pros & cons of each platform here.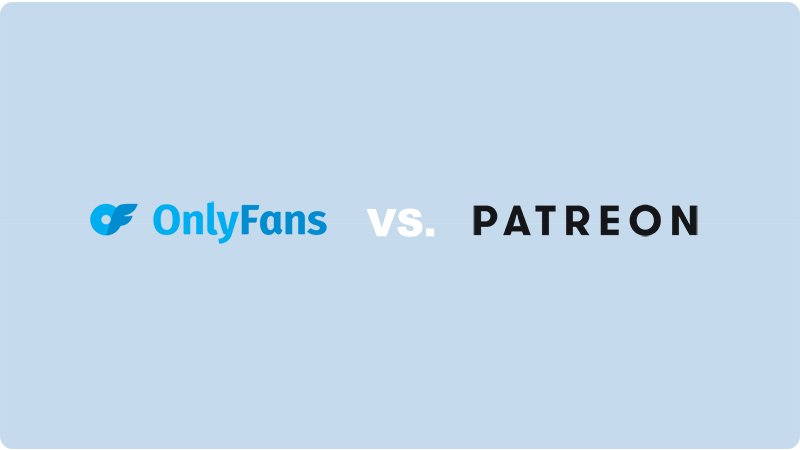 Which Membership Platform Is Better for You?
Patreon and OnlyFans are both premium subscription platforms that allow online creators to start generating a passive income with support from their fans. Choosing the right website will depend on the type of content you create and your target audience.
In this detailed Patreon vs OnlyFans guide, we will discuss what content is allowed on either platform, how much you can make on average, how to sign up, and go over a few pros and cons of each.
 
Patreon
OnlyFans
Funding model
Recurring: monthly
Recurring: monthly
One-time Payments: Private Message Request 
Payouts
1st of every month
7-10 Business days
Size
2,000,000+ active patrons; 100,000+ active creators
50,000,000+ active users; 1,000,000+ active creators
Company Founded
2013
2016
Highlighted Tools

Patreon app
Creator dashboard (includes analytics)
Patreon Lens
Public and gated posts, community feed, and messaging
Poll creation
Reward fulfillment tracking
Merch Store
And more

 

Creator dashboard (includes analytics)
Public and gated posts, and community feed
Paid for request via private messaging
Experiation Period
Poll & Quiz creation
Referral Program 
And more

Highlighted Integrations

Crowdcast
Google Analytics
Discord
WordPress
Discourse
And more

Fees
8% plus payment processing (3-5%)
20%
Best for…
Creators with a large audience
Creators with NSFW content
OnlyFans is better suited for NFSW content creators and those who often rely on donations.
At the same time, Patreon is better for more general content with a consistent monthly income stream.
Patreon is a well-known subscription membership platform that allows content creators to get paid by their audience. Fans can subscribe to a creator's page to get exclusive access to their content.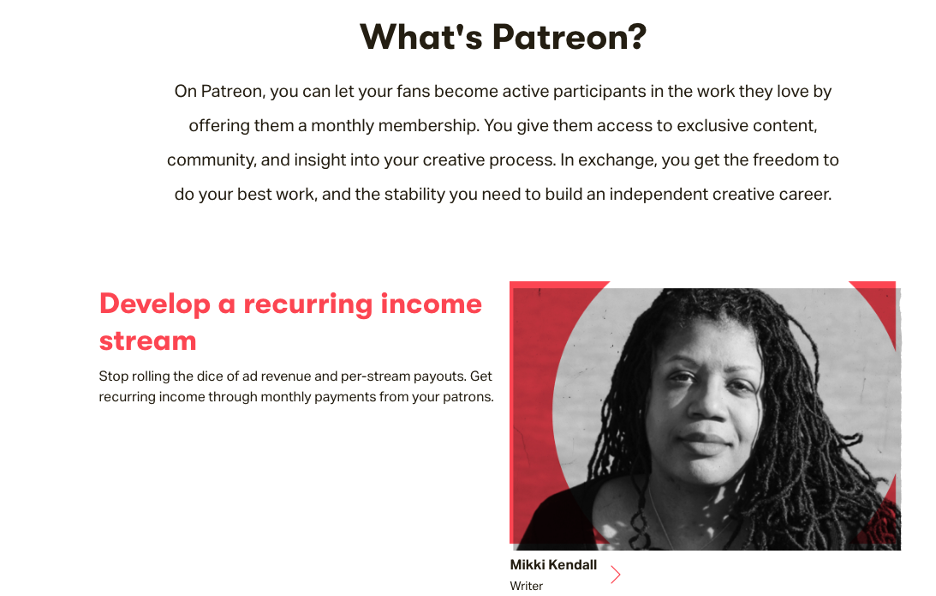 Through Patreon, creators can paywall their content, offer rewards and perks to their subscribers, and access helpful business tools that can help build their community. Payment can be in a monthly subscription or per completed work.
OnlyFans is similar to Patreon in many ways, but they have many distinct differences. For instance, Patreon is more targeted toward the public, while OnlyFans has a massive audience for adult content. That being said, there are plenty of content creators who are successful on OnlyFans who do not post adult content.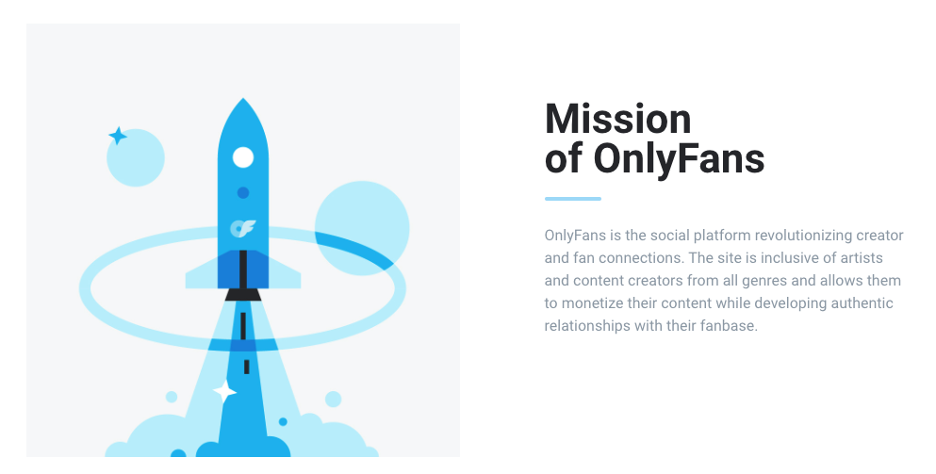 Like Patreon, OnlyFans creators can set up different tier levels that provide various awards and perks to fans. However, what is unique about OnlyFans and their feature that allows fans to tip the creator for their work.
What Content is Allowed on Patreon?
While Patreon provides far more freedom on what can people can post than free websites such as Youtube, this doesn't mean they don't have their restrictions.
For instance, users can post nudity as long as they clarify that the content is for ages 18+, but outright porno and fringe sexual content such as incest is prohibited.
Here are a few other types of content that are not allowed on Patreon:
Content that glorifies violence

Doxxing other people's personal information

Hate speech (calling for violence, exclusion, or segregation, including serious attacks on people solely based on their race, ethnicity, national origin, religion, gender, sexual orientation, age, disability, or other severe medical conditions.)

Harmful and illegal activity

Creations that infringe on other people's intellectual property rights

Content from politicians running for office and people or organizations with a dangerous or criminal past
How much can you make on Patreon?
Patreon operates on a tier-subscription basis, meaning that your audience can support you on different levels. This model encourages casual fans to pay a lower rate to support you, while more loyal and dedicated fans can pay higher rates and receive extra perks. These perks can include things like sneak peeks and other exclusive content.
The actual amount you are making on Patreon will depend on how many tiers you have and the cost of each tier which can range from $1.00 to $1000.00 per month. You also can set one of the tiers as "free" and charge per item or the service you are providing instead.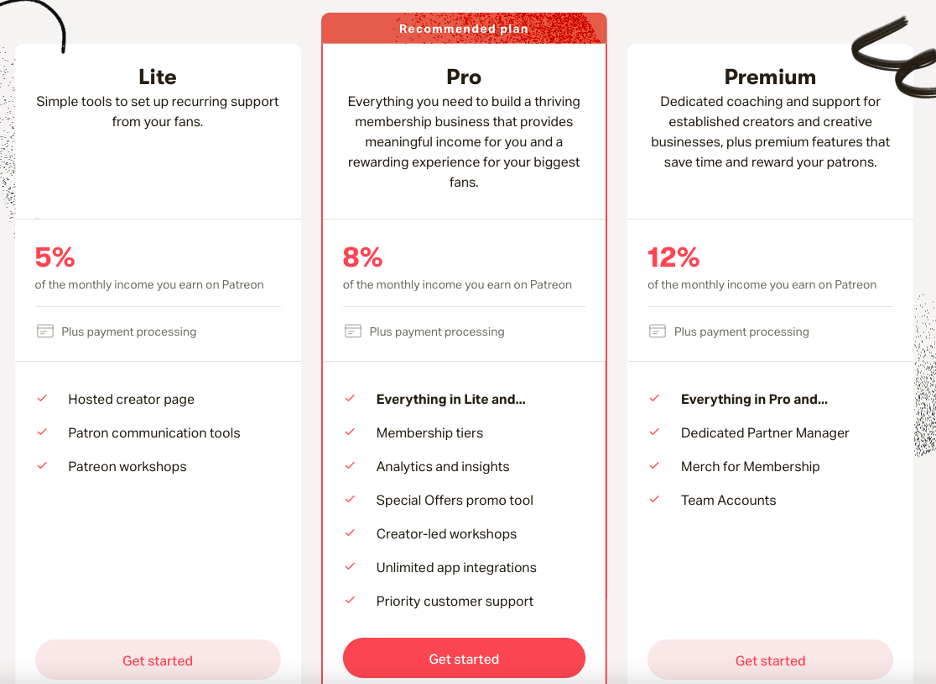 Patreon will take a cut of your earnings, and this percentage will depend on the creator plan you chose. Here is a quick overview of all of Patreon's membership plans:
Lite: This plan takes 5% of your monthly income. With Patreon Lite, you have access to all of the site's basic features, such as setting up your page, creating content, and communicating with your patrons.

Pro: This plan takes 8% of your monthly income. You will be able to set up different membership tiers, offer special offers, and access unlimited app integrations.

Premium: This is the most advanced creator plan that Patreon offers, taking 12% of your monthly income. You will have a dedicated partner manager, access to the Merch for Memberships program, and you can even set up Team Accounts. This plan is not for everyone, though. It is meant only for content creators with at least 100,000 subscribers on Youtube or another social media platform.
How to Sign up as a Creator on Patreon
Go to Patreon.com, then click the "create a Patreon" button located on the top right of the page.

Choose what kind of content you will be posting to the site. If your content is NSFW (not safe for work), check the box that says so.

Choose your currency.

You will then have the option to choose a custom URL that makes it easier for your audience to find you.

Add a profile picture, cover image, bio, and links such as your social media pages.

Begin setting up your different tiers by choosing a price, title, image, and description explaining what patrons will receive in return for subscribing.

Choose to bill your patrons per month or per post that you make.

You can now enter your account details like legal information and the country you are from. Patreon will not share this with your patrons.

Link a bank account or credit card to begin collecting payments.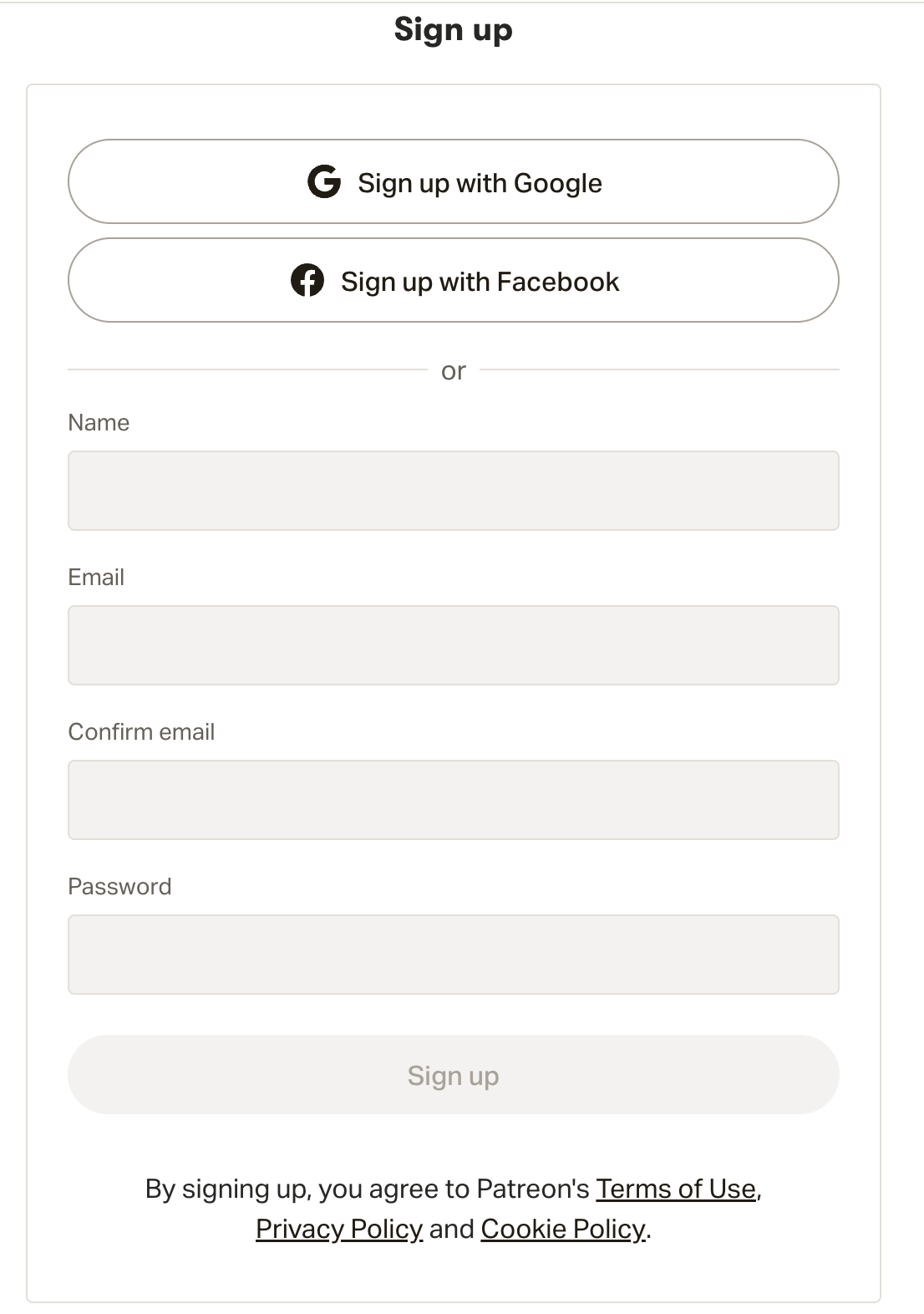 Pros and Cons of Patreon
| Pros | Cons |
| --- | --- |
| Different tier levels for your audience to choose from | A monthly commitment can be intimidating to some fans |
| No upfront cost | Discoverability can be poor |
| Consistent income for creators | Can be up to 5% in credit card processing fees. |
| Connects to your bank or Paypal | You are trusting all of your content with a third party. Policies can change at any time. |
Content Not Allowed on OnlyFans
While OnlyFans is one of the least restrictive membership platforms online, they still have policies that online creators must follow to have an account. Here is a quick overview of what type of content cannot be posted on OnlyFans:
Violent erotic content such as violence, rape, sexual assault, lack of consent, sadomasochistic abuse or hardcore bondage, torture, extreme fisting, or genital mutilation is not allowed.

Drugged erotic content, including hypnosis or intoxication of any kind is prohibited.

Illegal erotic content such as incest, bestiality, and necrophilia

Banned bodily fluids, including urine, scatological or excrement-related materials

Illegal erotic services, including escort services, prostitution, and sex trafficking, are not allowed on OnlyFans.

Revenge porn which OnlyFans defines as any sexually explicit material that features any individual who has not given prior, express, and fully informed consent to that material that is taken, captured, or otherwise memorialized or being posted and shared on the website) is not tolerated.

Deepfakes and non-consensual objectification mean that you cannot post degrading language or imagery that the person in the pictures or video is not consented to. Nor can users display "DeepFakes" or content that has been digitally altered to look like an individual without their consent.
How much can you make on OnlyFans?
The amount a person can make on OnlyFans can vary quite a bit. It depends on how many followers you have, how much you are charging, how many tips you are receiving, how often you post, etc. It is important to remember before getting started that OnlyFans will take 20% of what you are making, which includes both your subscriptions and tips.
Most users will make about $200-$500 per month on average. If you are someone with a more considerable following who posts more frequently, this amount will be much larger. Users can charge between $4.99-$49.99 per month for a subscription. When figuring out what to charge, some factors to consider may include if it is not safe for work as this content sells higher, the quality of your photos and videos, and how much time you dedicate to creating.
How to Signup a Creator on OnlyFans
Go to OnlyFans.com and select "sign up for OnlyFans" located right under the login button.

Sign up using either your email address, Twitter, or Gmail account.

Verify your email address with the email that has been sent to your email inbox. (If you selected to sign up using your Twitter, check the email you use for your Twitter.)

Verify your identity by scanning the front and back of your government-issued (passport, ID card, etc.) then, you'll need to take a photo of yourself holding your ID.

Submit for approval and wait for a confirmation email from OnlyFans. The email will either tell you that your application is approved, or it will tell you why you got denied.

If approved, you can start linking your Bank account to your OnlyFans account.

You can now set your rates and bundle packages, create your bio, and set a profile photo.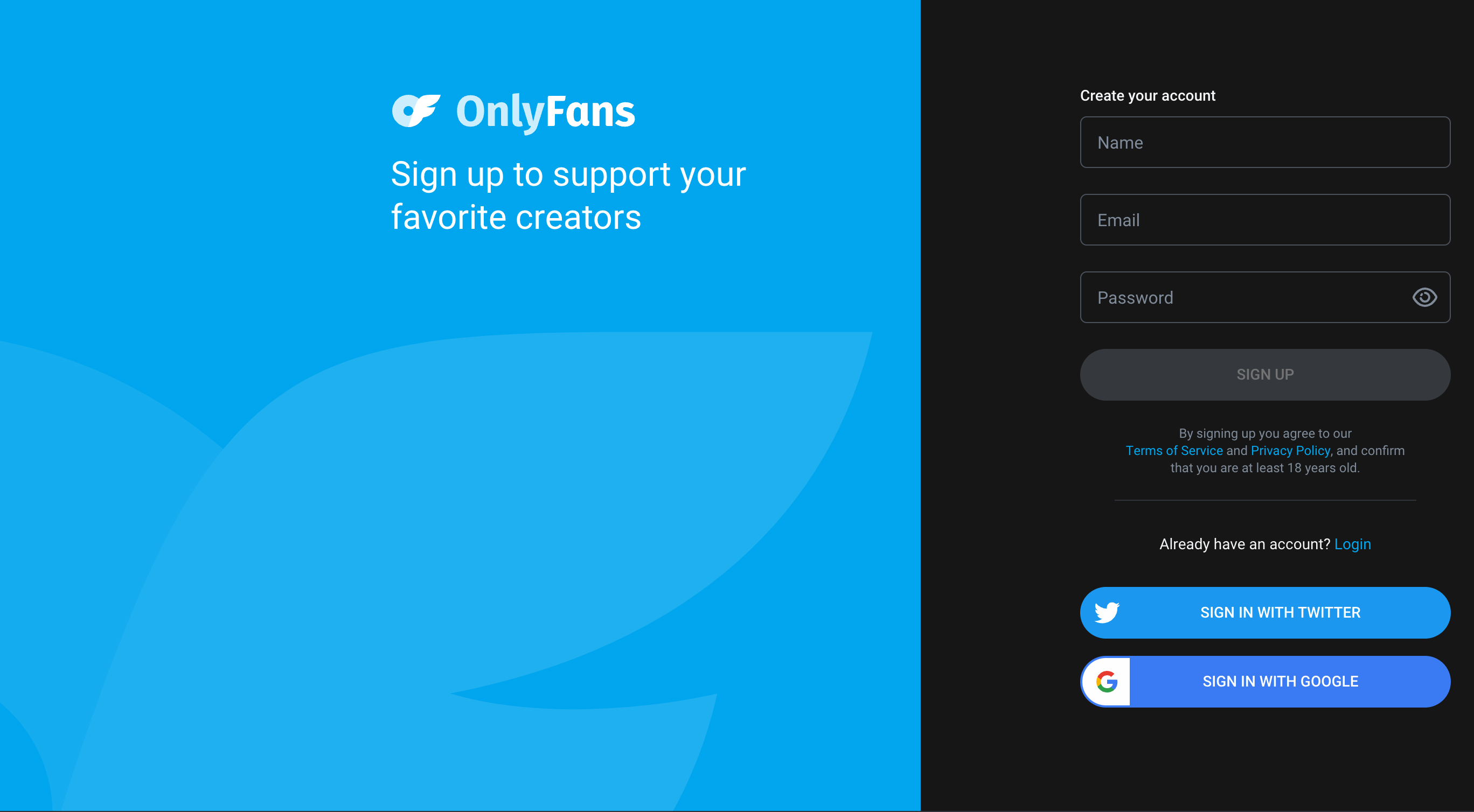 Pros and Cons of OnlyFans
Pros

Cons

Free to start

Takes a 20% cut of your earnings

Larger audience for adult content

Does not accept Paypal payments or payouts

Fewer limitations on content than most websites

 

Poor integration with other sites

Audience can send tips for the creator's work

Pays out through bank transfers that are specifically labeled "OnlyFans" which can pose a problem for some
Who's OnlyFans Better Suited To?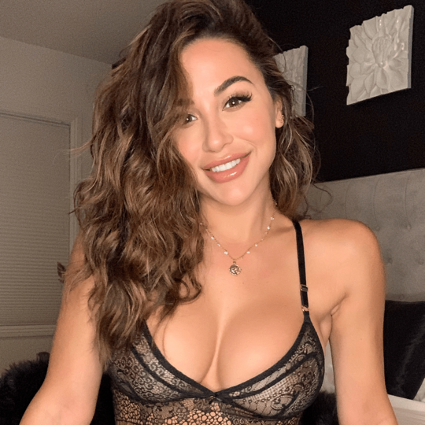 OnlyFans and Patreon are similar yet vastly different at the same time. They are both incredible membership platforms, but their target audiences are different. If you are an adult content creator, then OnlyFans is obviously the better option for your content.
This is Ana Cheri, she is a content creator on OnlyFans with over 19000 subscribers. She uses the platform to post content like behind the scenes, NSFW photoshoots, and her fitness tips. Ana offers her monthly subscription for free and makes money through donations made by her subscribers which is a great way to build your community quicker. Her OnlyFans is promoted on all of her social media pages like Instagram and Twitter.
Who's Patreon Better Suited To?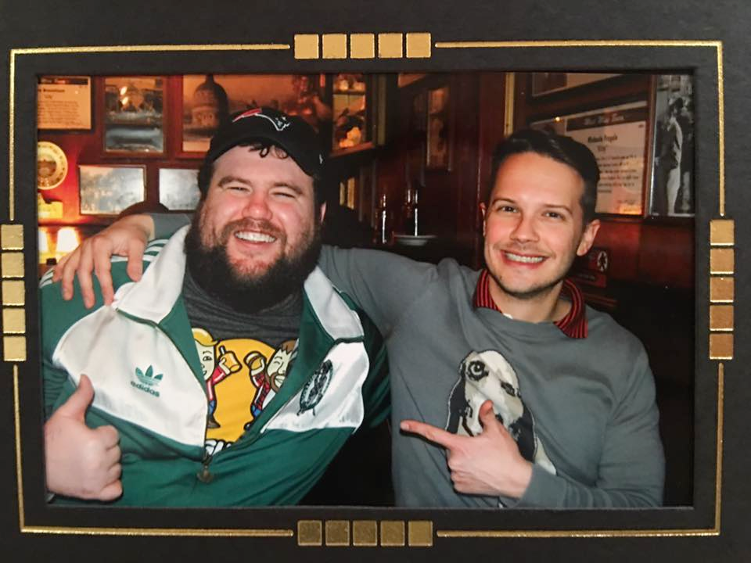 On the other hand, if you are the creator of more general content Patreon may be a better option. While you could still post this more general content onto OnlyFans with success, you will be sacrificing a more significant chunk of your earnings.
This is Nick Wiger and Mike Mitchel, they are hosts of the podcast Doughboys. On Patreon the duo offers exclusive content in three different membership tiers including their "tip jar" for $1 a month, "Golden Plate Club" for $5 a month, and the Platinum Plate Club at $8 a month. The Doughboys have over 11,414 patrons a month who can access exclusive content and features such as locked and bonus episodes, their discord server, and enjoy ad-free content.
In conclusion, these are two great websites. Choosing the right platform between Patreon and OnlyFans will significantly depend on the content you post and your target audience.