Patreon is a membership platform where creators can post content to earn an income. Read our article to learn more about Patreon and how it works.
Patreon is an online subscription-based platform where creators can share exclusive content with their most dedicated fans. Artists, video creators, musicians, podcasters, and creators-of-all-kinds can use Patreon to connect with a targeted audience and earn a monthly income online.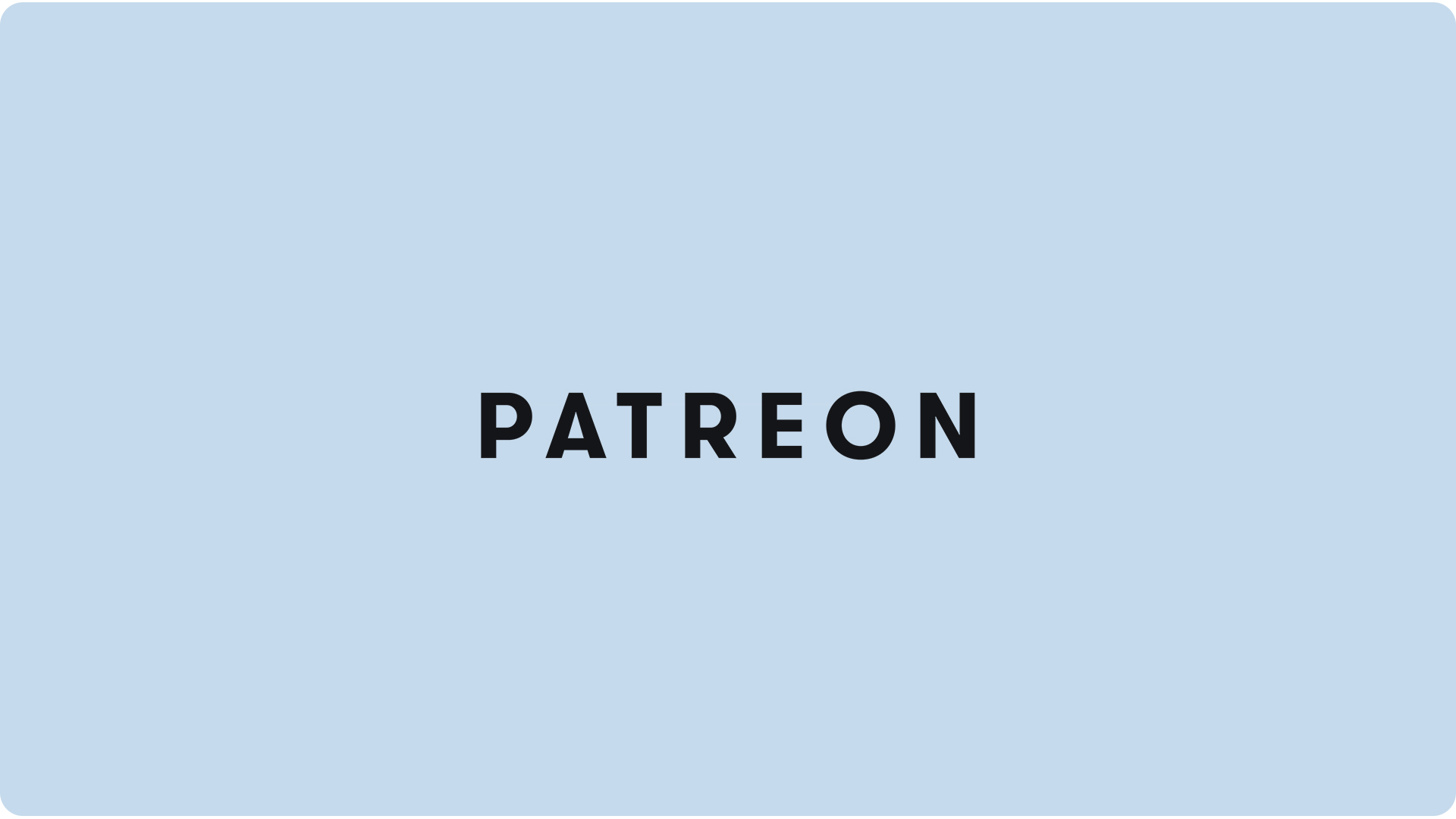 Basics
What is Patreon used for?
Not all membership platforms are made the same, so Patreon may not be for everyone.  Patreon is best suited for serious creators who already have an established following on another platform. There's no Discover page on Patreon featuring potential creators, so the most effective way to gain patrons is by advertising your page elsewhere.
What are the main features of Patreon?
Creators on Patreon can offer monthly recurring subscriptions to their fans at multiple membership levels. Patreon also features an iOS app, a creator dashboard with analytics, public and gated posts, community feed, messaging, and more. 
How much does Patreon cost to use?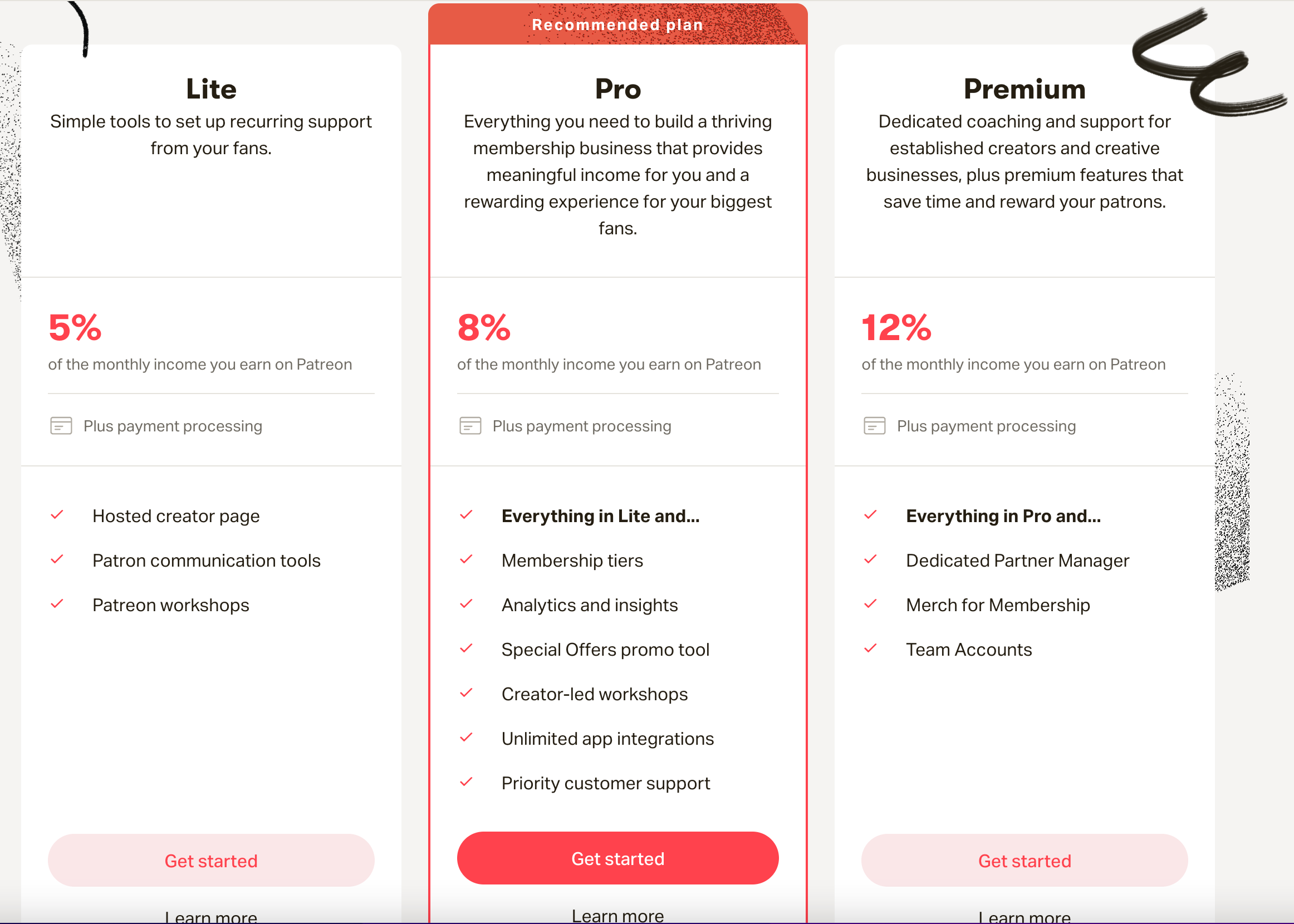 It's completely free to create a Patreon membership account, you only pay what you want whether you're a creator or a patron. However, the platform will take 5-12% of earnings from creators depending on their chosen plan. Meanwhile, patrons choose between subscription tiers set up by creators, each set at different prices and offering exclusive rewards. 
Is Patreon better than Youtube?
Patreon and YouTube are two separate platforms, each with its own set of advantages and disadvantages.
YouTube makes it easier for new creators to get discovered, so anyone looking to grow a following from scratch may prefer this platform. On the other hand, Patreon has less strict guidelines and helps creators reach a more targeted audience, making it better for established creators.
Why do YouTubers use Patreon?
YouTubers use Patreon for a variety of purposes, some of which include
Escaping restrictive guidelines and censorship

Keeping a larger percentage of earnings

Posting to a more exclusive audience
How much do Youtubers make on Patreon?
The amount that YouTubers will make on Patreon varies depending on their subscriber count and subscription tier prices. The more patrons a creator has, the more revenue they will generate.
See this example from the Patreon blog page for an idea of how much a YouTuber can make with 30,000 patrons. 
| | |
| --- | --- |
| Size of following | 30,000 |
| % of following willing to learn more | 15% |
| Traffic to creator page | 4,500 |
| % of traffic that converts | 1-5% |
| Average value per patron | $7 |
| Total monthly earnings | $315 – $1575 |
Who is the highest-paid Patreon creator?
True Crime Obsessed is the highest-paid Patreon creator with over 48,000 patrons. Made by true crime junkies Gillian and Patrick, this podcast deep dives into all things crime-related. The True Crime Obsessed Patreon offers four membership levels for fans to choose from to support the pod and gain access to extra content and rewards.
Who are the most popular creators on Patreon?
Some of the most popular Patreon creators include
True Crime Obsessed

DarkCookie

The Tim Dillon Show

Chapo Trap House
Is Patreon safe?
Patreon is a trusted website that is perfectly safe to use for both creators and patrons.
How does Patreon make money?
Patreon makes money via fees that it charges creators. When creators join Patreon, they have three membership tiers they can choose from: Lite, Pro, and Premium. Depending on the chosen plan, Patreon will take 5%, 8%, or 12% from the creator's earnings. 
Does Patreon have competitors?
Their are Patreon alternatives out there such as Utreon, Onlyfans & Buy me a coffee.  They all offer comparable service but some crowdfunding sites are better suited for certain types of creators. For more information check out these comparison articles: 
Features
Check out this table for a breakdown of this platform's main features:
 

Patreon

Funding model

Subscriptions: recurring monthly

Payouts

1-3 business days after withdrawal + min. $10-25

Size

2,000,000+ active patrons; 100,000+ active creators

Company Founded

2013

Highlighted Tools

iOS app

Creator dashboard (includes analytics)

Patreon Lens

Public and gated posts, community feed, and messaging

Poll creation

Reward fulfillment tracking

Merch Store

And more

Highlighted Integrations

Discord

Crowdcast

Google Analytics

WordPress

Discourse

And more

Fees

5-12%

Best for…

Serious creators 
Payments
How does payment work on Patreon?
Patreon payouts are sent to the creator's accounts 1-3 business days after withdrawal. The creator must have a minimum balance of $10-25 (depending on location) in their account to access funds.
How do I pay creators on Patreon?
Follow these steps to hook up your card/PayPal to Patreon:
Hover over your profile avatar

Open the user menu

Click "Manage memberships"

Click on "Payment methods"

Click Add Card or Add PayPal button

Enter your card details and click Submit or log into PayPal
How do I stop automatic payments on Patreon?
To stop automatic payments, follow these steps:
Go to your profile avatar and select "Manage memberships"

Click the Edit button

Click the Cancel Payment button under the update button

Click the Cancel your membership button
This will cancel your membership and prevent automatic payments for this creator from leaving your account.
Do I need PayPal for Patreon?
No, Patreon users do not need PayPal to use Patreon. Patreon also accepts Apple Pay, Venmo, Sofort, Visa, and Mastercard.
How to cancel a Patreon account?
Canceling a Patreon account is easy for patrons and creators alike. First, we recommend canceling all memberships to avoid further charges, as Patreon can take up to 30 days to delete your account. 
Then, just follow these simple steps:
Visit the privacy policy center and click "Take Control" on the upper right hand

Erase your personal data from the system when prompted

Click "Allow" then "Confirm Request" to finish submitting your account for deletion
Does Patreon accept gift cards?
No, Patreon does not currently accept gift cards.
Monetization
Can you make a living on Patreon?
Yes! Many creators are able to financially support themselves by making content on Patreon.
Content Policy
Does Patreon allow NSFW content?
Patreon allows certain types of NSFW content, but with restrictions. For example, any adult content with "mature themes" must be marked as 18+. Examples of mature themes as defined by Patreon includes
Works depicting real people in the nude in sexual contexts

Animations or illustrations depicting nudity in sexual contexts, and animations or illustrations featuring sexual interactions

Audio content that features simulated sexual interactions
But Patreon does not allow NSFW content such as pornography, sexual services, or offensive and graphic creations depicting bestiality, rape, or child exploitation.
Is Patreon Merch worth it?
Patreon offers a Merch for membership program allowing creators to offer a merchandise item as a membership level reward. This can be an excellent method to encourage subscribers to sign up for higher tiers. 
Account Information
Can you have multiple Patreons?
Yes, creators can have multiple Patreon accounts for different ventures. However, accounts cannot be merged and each must be linked to a different email address. 
How to Delete Patreon Messages?
Messaging creators and patrons can be an effective way to increase engagement and build a sense of community. However, there is no option to delete Patreon messages, so users and creators should be careful with what they send. 
Can you save Patreon videos? 
Some third-party apps allow users to download Patreon videos.
User FAQ- Frequently Asked User Questions
How to bypass Patreon Paywall? 
Users on Patreon cannot bypass paywalls - they can view free content posted by creators or subscribe to unlock paid posts.
What is Patreon and why do online creators have a problem with the platform?
Some users have had issues with fplaPatreon because of its platform/payment processing fees and censorship for adult content.
Creator FAQ- Frequently Asked Creator Questions
How do I join Patreon?
Follow these steps to join Patreon as a content creator:

Go to the Patreon website and click "Create on Patreon" in the top right

Enter your info and click "Sign Up" to create an account

Pick 1-2 categories that describe your content

Answer questions about payments, merch, and more

Reserve a custom URL and connect it with social media

Customize your patreon page with a headline, profile picture, cover image, and About section

Create Patreon membership levels with rewards
What content should I put on Patreon?
Creators can post any kind of content on Patreon, as long as it follows the community guidelines. We recommend posting high-quality videos, photos, blogs, music, etc. that your patrons would be willing to pay to see. 
How do you become successful on Patreon?
Follow these steps to become a successful Patreon creator:
Create multiple membership tiers with incentivizing rewards

Maintain a regular and consistent posting schedule

Give patrons early access to content

Connect Patreon to Discord and YouTube

Promote Patreon across social media platforms

Send personalized messages to patrons
Does Patreon own my content?
No, creators on Patreon own their content - it can never be used in ads or promotional material without permission. However, all content is subject to review and can be refused if it does not follow the community guidelines.
Do you need a bank account for Patreon?
Yes, creators will need a bank account to get paid and patrons will need a bank account to support their favorite creators.
Can you see who views your Patreon?
Creators can track their view count on the Dashboard but cannot specifically see who the viewers are.
What is suspicious activity?
Patreon may restrict the ability for creators to payout their balance if the account has any indications of fraud.
Final thoughts
Patreon is an online platform where many content creators have found success. Whether you're an artist looking to share digital art with fans, or a viewer looking to support your favorite video creator, Patreon is an accessible platform with many excellent features for patrons and creators alike.